The most important rules of the game

1) The field
2) The ball
3) Players
4) Referee
5) The match
6) Offside
7) Free kick
8) Misc
9) special rules - Did you know this?


1) The field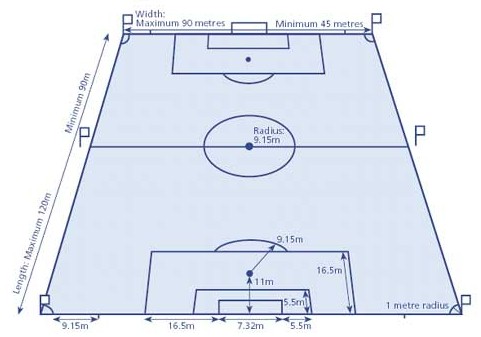 2) The ball
Of a circumference of not more than 70 cm (28 ins) and not less than 68 cm (27 ins); not more than 450 g (16 oz) in weight and not less than 410 g (14 oz) at the start of the match;


3) Players

A match is played by two teams, each consisting of not more than eleven players, one of whom is the goalkeeper. A match may not start if either team consists of fewer than seven players.
-A player who has been sent off before the kick-off may be replaced only
by one of the named substitutes.

A player must not use equipment or wear anything that is dangerous to himself or another player (including any kind of jewellery).
Players are not allowed to use tape to cover jewellery. Taping jewellery is not adequate protection Rings, earrings, leather or rubber bands are not necessary to play and the only thing they can bring about is injury.
Shinguards are to be covered entirely by the stockings;must be made of a suitable material (rubber, plastic, or similar substances); and provide a reasonable degree of protection.
4) Referee.

Each match is controlled by a referee who has full authority to enforce the Laws of the Game in connection with the match to which he has been appointed.
5)
T
he match
The match lasts two equal periods of 45 minutes, unless otherwise mutually agreed between the referee and the two participating teams. Any agreement to alter the periods of play (for example to reduce each half to 40 minutes because of insufficient light) must be made before the start of play and must comply with competition rules.
A coin is tossed and the team that wins the toss decides which goal it will attack in the first half of the match.The team that wins the toss takes the kick-off to start the second half of the match. A goal may be scored directly from the kick-off.

when the ball is in play or not:



6) Offside

It is not an offence in itself to be in an offside position.
A player is in an offside position if:

The player

is nearer to his opponents' goal line than both the ball and the second last opponent. A player is not in an offside position if;

- he is in his own half of the field of play or
- he is level with the second last opponent or
- he is level with the last two opponents.


There is no offside offence if a player receives the ball directly from:
a goal kick, throw-in or a corner kick


7) Free kick

A direct free kick is awarded to the opposing team if a player commits any of the following six offences in a manner considered by the referee to be careless, reckless or using excessive force:

-kicks or attempts to kick an opponent
-trips or attempts to trip an opponent
-jumps at an opponent
-charges an opponent
-strikes or attempts to strike an opponent
-pushes an opponent

A direct free kick is also awarded to the opposing team if a player commits any of the following four offences:


tackles an opponent to gain possession of the ball, making contact with the opponent before touching the ball holds an opponent, spits at an opponent, handles the ball deliberately.

Examples on bookable offence (yellow card);
- is guilty of unsporting behaviour
- shows dissent by word or action
- persistently infringes the Laws of the Game
- delays the restart of play
- fails to respect the required distance when play is restarted with a corner kick or free kick
- enters or re-enters the field of play without The Referee's permission
- deliberately leaves the field of play without The Referee's permission.

Red card/sending off
1. is guilty of serious foul play
2. is guilty of violent conduct
3. spits at an opponent or any other person
4. denies the opposing team a goal or an obvious goalscoring opportunity by deliberately handling the ball (this does not apply to a goalkeeper within his own penalty area)
5. denies an obvious goalscoring opportunity to an opponent moving towards the player's goal by an offence punishable by a free kick or a penalty kick
6. uses offensive or insulting or abusive language and/or gestures
7. receives a second caution in the same match.

8) Misc.

Throw in: the player should; faces the field of play;
has part of each foot either on the touch line or on the ground outside the touch line
uses both hands delivers the ball from behind and over his head
The thrower may not touch the ball again until it has touched another player.

Corner:
The ball is placed inside the corner arc at the nearest corner flagpost.
The corner flagpost is not moved. Opponents remain at least 9.15 m (10 yds) from the ball until it is in play.
The ball is kicked by a player of the attacking team.
The ball is in play when it is kicked and moves.
The kicker does not play the ball a second time until it has touched another player.

9) special rules

-A player who has been sent off before the kick-off may be replaced only by one of the named substitutes.

If a penalty kick has to be taken or retaken, the duration of either half is extended until the penalty kick is completed.

There is no offside offence if a player receives the ball directly from: a goal kick, throw-in or a corner kick